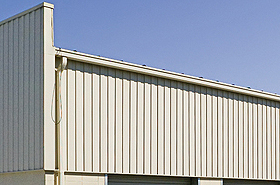 Tech Four™ offers 16" coverage with 1/4" high, 4" wide alternating fluted profile. Available in lengths of up to 40', Tech Four can provide continuous coverage from foundation to eave - eliminating the need for endlaps and assuring superior weather tightness. Manufactured in sturdy 24 gauge steel for added strength and erect-ability, Tech Four's 2" deep overall profile easily adapts to a variety of insulation options (including batt, blanket or rigid board) creating a more energy-efficient building envelope.
Tech Four Plus provides an additional energy advantage by providing field-located thermal blocks between the panel and girts. The thermal barriers allow increased insulation to be placed behind the wall panel. In addition, these thermal spacers create more room for the recovery of the insulation, thus significantly enhancing the thermal efficiency. The Tech Four Plus wall system can increase R-values by 27%.
Available in VP'x long-life KXL finish with 70% PVDF (Kynar 500 or Hylar 5000), Tech Four™ is available in Cool Egyptian White, Cool Granite Gray, Cool Straw Gold, Cool Cobalt Blue, Cool Cotton White, Cook Dark Bronze and Cool Leaf Green.